Metrodata's products solve connectivity problems in wide area communications networks for Carriers, ISP's, Corporates and Private Network Operators. These products provide the "missing link" that can transform a collection of equipment and services into a viable networking solution.
All products have integral power supplies with a choice of universal AC or -48V DC powered versions. Some products are also available for use with 12V-24V DC power, please contact our sales department for availability.
Quad box is an alternative packaging option which is available for many of the smaller Metrodata standalone products. It is essentially four individual PCBs of the relevant Metrodata product in a single 1U 19" case powered by a single power input lead.

Quad-DC3000 unit

The Quad box has a single power inlet (AC or DC) feeding the individual units but otherwise each unit operates completely independently. Two units are accessible via the front and two units is from the back.
Stacked Quad-FC4100 units

Pair of Quad-FC4100 units stacked front to back to show both the front and back detail.
Quad unit without lid to show internal wiring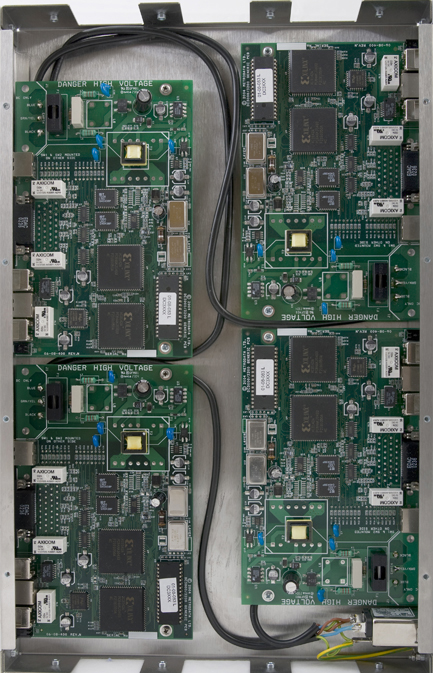 The Quad box also offers a saving of up to 25% over the total cost of four standalone units. So if density and or cost are a factor, then the Quad box option could well be the solution.
The following products are currently available in the Quad Box format: