Metrodata's passive CWDM and DWDM Multiplexer family, MetroWAVE, offers a highly effective and low-cost solution to enable Service Providers to maximise the bandwidth of dark-fibre links. Different services, typically of up to 10Gbps, are run across conventional single-mode fibre links using different wavelengths. CWDM (Coarse Wavelength-Division Multiplexing) offers up to 16 different wavelengths for running different services, and this number can be increased by moving to or simply adding DWDM (Dense Wavelength-Division Multiplexing) wavelengths. Metrodata offers both CWDM and DWDM multiplexers, which have the added advantage of being totally passive in operation, i.e. our products are completely unpowered and are therefore small, light, low cost and extremely reliable in operation.
Our MetroWAVE multiplexers are also used by Corporate and Public Sector customers, wherever multiple high-bandwidth or simply diverse services (e.g. Voice, Serial communications, Ethernet data) are required to be transmitted across a single conventional fibre link. Metrodata offers a wide range of fibre media converters for different communications protocols, which can be used in conjunction with the MetroWAVE family.
MetroWAVE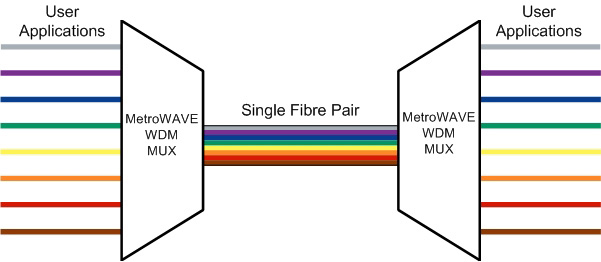 Principle of operation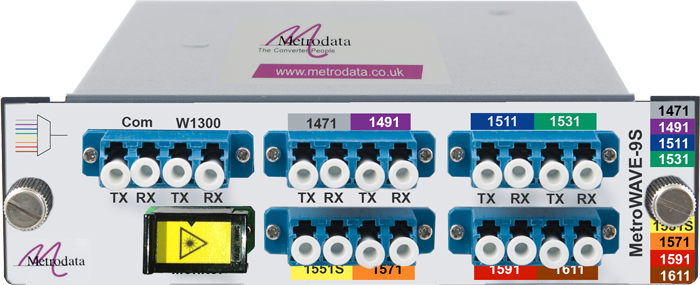 Product Example: MetroWAVE-9S
Click below for further information on the MetroWAVE range:
Note: Metrodata is additionally able to offer products customised to specific applications. Should you require different port numbers or particular characteristics for any given application, then please let us know and we maybe able to produce an exact match to your specifications.
Vendor compatible CWDM & DWDM fibre transceivers are also available, including SFP, SFP+ and XFP, both short and long-haul variants.