EDDs for managing End-to-End Ethernet Service Delivery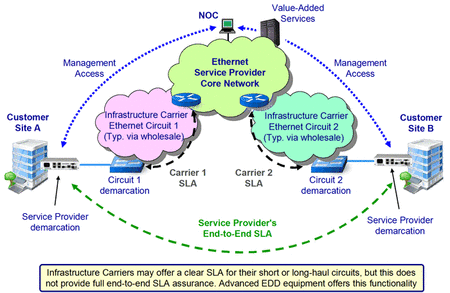 The use of Ethernet, for Corporate Wide-Area Network Services, is becoming increasingly attractive to both Service Providers and Customers and alike. Ethernet offers a number of advantages, in particular both reduced cost and complexity, compared with the 'managed IP Router' networks deployed by the majority of Service Providers today.
Nevertheless, for Service Providers, Ethernet still presents some real challenges. In today's deregulated Telecoms environment, many Ethernet Service Providers are 'Aggregators', deploying Infrastructure circuits acquired on a wholesale basis, for either long-haul connections, 'last mile' access or both. Only by having their own manageable network demarcation devices at their customer premises, can the Service Provider secure important management visibility to local customer connection points and/or end-to-end Wide-Area circuits.
Our new White Paper examines the challenges of Management of end-to-end network connections experienced by Ethernet Service Providers and looks at how the use of cost-effective, manageable Ethernet Demarcation Devices can help them to meet those challenges.
Download the
Networking The World Since 1989