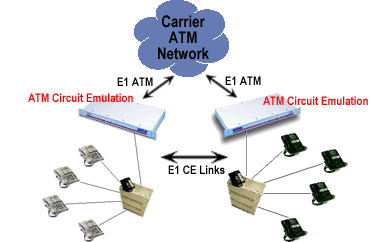 PBX devices connected together via an ATM network using ATM Circuit Emulation
There is often the need to transport non-ATM or legacy traffic over an ATM network, to integrate services and to benefit from the QoS guarantees and management capabilities. Typical uses are E1 for inter-PBX traffic or E3 for high quality video such as broadcast TV.

A practical example is that of integrating Digital Circuit-switched PBX's e.g.. Meridian, IsDX, SDX, into a core ATM network.
This defers the need to replace perfectly good Digital PBX's with newer technologies such as VOIP and avoid the risks of unpredictable degraded voice transmission.
Metrodata offer a wide range of ATM Circuit Emulation Converter products which can perform this integration function, or for more complex multi-service convergence applications the AP Access Processor platform can be used.
Networking The World Since 1989