Metrodata offer a wide range of Ethernet/LAN Extension and Ethernet Service Delivery products, and can be placed in the following categories:
Managed Ethernet/LAN Extension - fully manageable, configurable offering statistics and SNMP
Plug & Play LAN/Ethernet Extension - minimal to no configuration, simply plug in and go
Carrier Ethernet Demarcation - fully managed, SLA performance/measurement, traffic shaping and more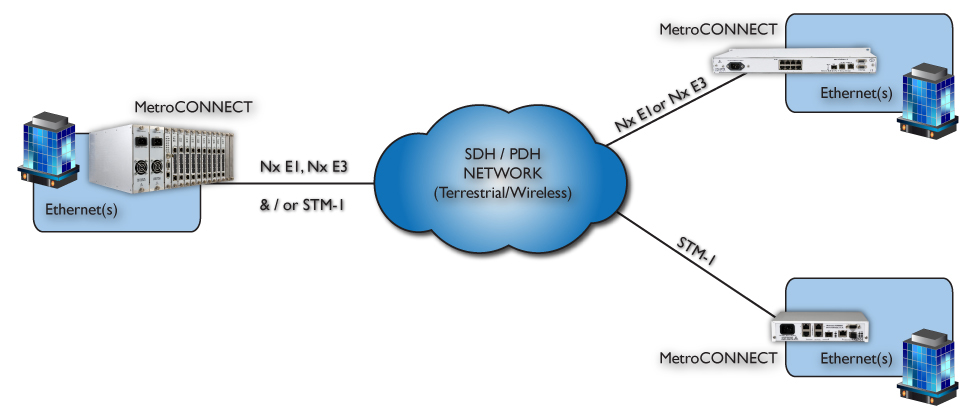 Metrodata also has a range of Ethernet media converters where the last mile access is Ethernet, but an NTU device is required to present the customer with the preferred connection type (e.g. 10/100/1000baseT copper Ethernet delivery over a fibre Ethernet last mile access), or alternatively as a demarcation device.
Metrodata offer a comprehensive solution for Ethernet Service Delivery. The MetroCONNECT range of products offers both carrier exchange modular systems as well as standalone customer site equipment. These products enable you to provision Ethernet based services over a wide variety of last mile connection types without the configuration complexity and network partitioning that routers cause. Sophisticated OAM and IP based management allow full network visibility and utilisation right onto the customer site.
Metrodata offer various solutions within their Ethernet service delivery family:
Metrodata offer a range of products which are useful for LAN extension purposes. These products enable you to connect local area networks (LANs) together over a wide area network (WAN) without the need for expensive and complex routers. An example application would be to connect a remote office network to the head quarters over a Telecoms leased line service.
Metrodata offer various solutions with their LAN extender family:
Carrier Ethernet services are evolving to use the following features:
Management visibility onto the customer site
VLAN support using 802.1Q, including Q-in-Q stacked VLANs
Quality of service using 802.1p VLAN prioritisation with traffic policing and shaping
Service monitoring using 802.3ah EFM and 802.1ag CFM
SLA performance measurement and verification using Y.1731
Service installation and provisioning using RFC2544 and Y.1564
Metrodata has a range of Ethernet Access Demarcation products offering this functionality whilst maintaining the lowest possible unit cost:
Follow the link Carrier Ethernet services for more information.