Below are some typical examples of strong Carrier Ethernet Network Deployments, for which Ethernet Demarcation Device (EDDs) provide powerful tools to assist in provisioning and troubleshooting and to monitor exacting Customer Service Level Agreement (SLA) conditions relating to characteristics of the delivered service.
Core-Edge Networks
Carriers and Ethernet Service Providers need to terminate their Ethernet services via manageable demarcation devices at the customer premises. The access demarcation device may need to provide media conversion, but will also need to support provisioning and service performance monitoring tools compliant with emerging Carrier Ethernet 'Operations, Administration and Maintenance' (OAM) standards. The FCM9003 Ethernet Access Device and FCM9005 Ethernet Demarcation Device products from Metrodata fulfil these functions.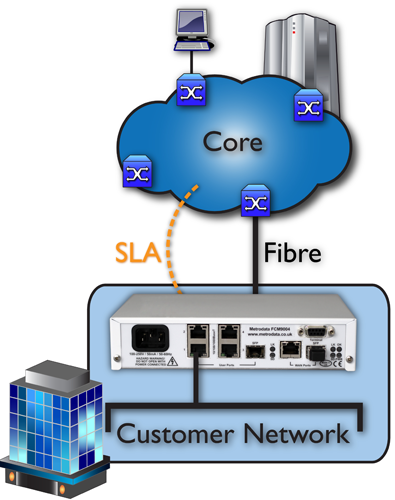 Wholesale/Multi-Carrier Infrastructures
Most Ethernet Service Providers today are 'Aggregators', offering end-to-end connections supplied on a wholesale basis from potentially a number of different Infrastructure Carriers. Whilst those Carriers may offer discrete 'Service Level Agreements' (SLAs) for their portions of the network, the Aggregator must assure the SLA of their service from end-to-end, right up to the Customers' premises. As the wholesale Ethernet service will now be provisioned as copper then the FCM9003 Ethernet Access Device products from Metrodata can be used for Ethernet service demarcation. If more comprehensive, multi-flow service characterisation is required, then the FCM9005 Ethernet Demarcation Device product should be used, for 10Gbps ethernet service demarcation check our FCM10G05.

Site-to-Site & Meshed Networks
Complex network configurations require that the Ethernet Access Demarcation devices are able to maintain multi-flow links for point-to-point (E-line) or point-to-multipoint (E-LAN) or (E-tree) network topologies. The FCM9003, FCM9005 and FCM10G05 products support 802.3ah EFM and 802.1ag CFM, in addition to advanced service provisioning tools and SLA monitoring.