Pricot & Metrodata have partnered to offer a turnkey, efficient and cost effective satellite frame relay platform solution featuring the Metrodata PA1000 Satellite Gateway and the IPricot IPR-S1110FR Satellite Router-Receiver


Metrodata and IPricot have been working together to offer a solution for outbound IP that offers reduced overhead, allowing money to be saved on the satellite capacity used, or the optimisation of existing capacity usage. Overhead is reduced from between 10% and 30% dependent on the traffic profile, with 10% being a worst case scenario.
Metrodata IPricot Frame Relay Solution
With the Metrodata IPricot solution you have the ability to increase sales, as you can optimise your existing transponders and saturate them with customers. Right now there may be thresholds in your network which mean you need to start another service on the next transponder or even launch another system.
With the Metrodata IPricot solution in your network you can potentially have sustained growth on an existing transponder. This is a particularly true when looking at high bandwidth bi-directional backbone links. Previously limits would be placed on the possible maximum bandwidth by the Routers at either end and not the satellite architecture, transponder size or modulation technique.
In fact in many instances bandwidth was backed off to incorporate the 52Mbps maximum speed that could be sustained on the router HSSI interface.
It became apparent that the PA1000 could support very high speeds of up to 100Mbps.
HSSI satellite modulators from Newtec's Azimuth range were used to test the maximum throughput of the PA1000 up to 100Mbps.
If you could optimise the high speed backbones and increase the amount of bandwidth available, what about revisiting your other internet service platforms.
The most common of these seemed to be DVB/IP outbound or uni-directional services. These are prevalent in the industry, but have a high DVB/IP overhead. By using Frame Relay DLCI's instead of DVB/IP the overhead is immediately reduced, resulting in a higher performance network. The transmission of Frame Relay is transparent to the PA1000, and so an optimal outbound carrier with reduced overhead is transmitted.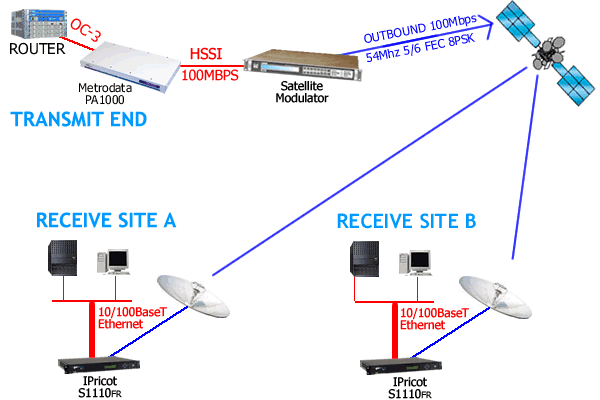 As can be seen on the graph below, a typical 20% bandwidth saving can be achieved for small packets compare to DVB/IP MPE encapsulation. This is particularly efficient for carrier transporting VoIP packets.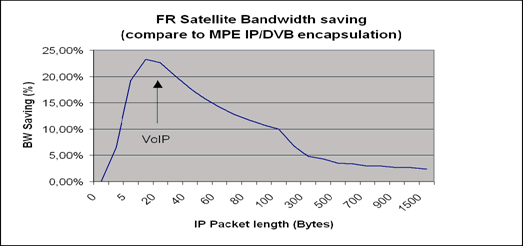 The Metrodata IPricot solution takes the best of DVB/IP and the best of Frame Relay and combines them together to give an optimized solution for pure IP delivery with reduced overhead.
PA1000 Satellite Gateway
The Metrodata PA1000 is a POS to HSSI converter, which supports HSSI speeds up to 100Mbps, which is almost double the bitrate supported by a Cisco HSSI router interface.

Features:
Supports up to 100Mbps data rates, with 1bps granularity
HSSI satellite modulators and demodulators supported
POS STM-1/OC-3 fiber router ports are supported
Asymmetric, simplex and full duplex data rates are supported
Point-to-point and multi-casting applications are supported
About PA1000
The Metrodata PA1000 Satellite Platform has evolved out of customer requirements for interfacing High Speed Satellite Links to Routers. Due to its flexibility and scalability the PA1000 makes a perfect choice upon which to base your Satellite Infrastructure.
The PA1000 provides a gateway to using optimal Frame Relay Encapsulation on Outbound IP Over Satellite services.
Utilising the PA1000 will allow you to re-design, optimise and transform your satellite network. You can design truly innovative satellite services, as Metrodata give you a platform to use your imagination. With the PA1000 you have a platform for building a lasting competitive advantage, because you can remove the thresholds placed on YOUR Service Delivery, by YOUR infrastructure.
Our Satellite Division are at the leading edge of Satellite Communications, working with Telecoms and Satcoms Hardware Manufacturers to develop a truly scalable and flexible Core Platform for satellite service delivery. About APSAT
We are offering you the opportunity to turn our product innovations into new, exciting and profitable services.
There has always been an invisible demarcation point between Telecoms Knowledge and Satcoms Knowledge. This is not just a knowledge barrier, but a hardware barrier as well. Most of the thresholds placed on your service delivery, come from your Satcoms and Telecoms Infrastructure. With the PA1000 Platform you can remove these thresholds and build truly scalable solutions, whilst drastically simplifying your network infrastructure.
BENEFITS OF THE PA1000 INCLUDE:
VARIABLE BIT-RATE FROM 8K TO 100MBPS
EASE OF MIGRATION FROM EXISTING HSSI BASED ARCHITECTURES
REDUCED OVERHEAD COMPARED TO DVB-IP SYSTEMS
BOTH ASYMMETRIC, FULL DUPLEX AND RECEIVE-ONLY SERVICES SUPPORTED
The PA1000 has continually evolved as we developed it. As satellite service providers thought of new and additional features we still kept all the original functionality.
The initial requirement was for a device that could interface a HSSI (High Speed Serial Interface) to any backbone Router. With the Cisco HSSI interface having a maximum rate of 51.84Mbps
HSSI router interfaces only operate up to 51.84Mbps - the PA1000 extends the speed capability of the Satellite modems HSSI Interface to operate at 100Mbps, and interface them to an OC-3 155Mbps router. The PA1000 dramatically increases the flexibility and longevity of the satellite link bandwidth - that's 80% more throughput, and/or a major deferral of the need to launch new satellites for additional capacity - $m's potential savings.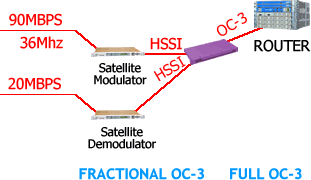 IPricot IPR-S1110FR Satellite Router-Receiver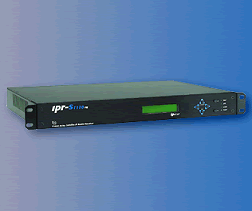 IPR-S1110FR Frame Relay Satellite IP Receiver
FEATURES:
Receiving any QPSK, 8PSK, 16QAM, 2-45 Msymb/s carrier
De-encapsulating the Frame-Relay data based on the customer DLCI channel allocation
Forwarding the extracted data directly on the customer LAN through its 10/100 BaseT Ethernet port
Minimizes protocol overhead, allowing you to improve your bandwidth efficiency and reduce the overall cost of your satellite platform (up to 20% saving)
The IPR-S1110FR has been tested and validated with an existing satellite operator platform.
About IPR-S1110FR
The IPR-S1110 FR is a brand new Frame Relay integrated satellite router receiver designed to receive the outbound carrier at the distant site at a very competitive price.
This new Frame Relay solution is offering a number of key advantages:
It takes the best of the 2-Way DVB platforms for Point to Multi-point platform enabling Assymetric IP services tailored to your need
You don't need an expensive redundant DVB/IP gateway or encapsulator, to offer carrier class IP backbone services
It minimizes protocol overhead, increasing the bandwidth efficiency and therefore reducing the overall satellite cost (especially for small VOIP packects)
Finally The IPR-S1110 FR is offering an all in one solution for the reception and data forwarding of the outbound channel at a very cost effective price.
Capability
Unicast, Multicast, Broadcast Routing or Bridging (Static, IGMP, DVMRP, NAT Dynamic)
Performance
QPSK 8PSK 16QAM modulation, 2-45 Mbaud
Satellite interface up to 145 Mbps of data
Up to 100 Mbps throughput for 1500 bytes IP packet length per unit
Up to 20 Mbps throughput for 64 bytes packets
Reliability
Additional processor for watchdog control
No on-board mechanical components
Telecom quality grade
Manageability
Return channel management via router, modem, PPP or PPTP
Easy integration within any existing architecture (no third party software needed)
Easy to install & set-up
Management & monitoring through LCD display & key pad, console, telnet, web, SNMP
Management of configuration profiles
Scalability
Complete list of optional software packs for differentiated services offering
Exclusive flash card embedding OS, software & profiles
Networking The World Since 1989