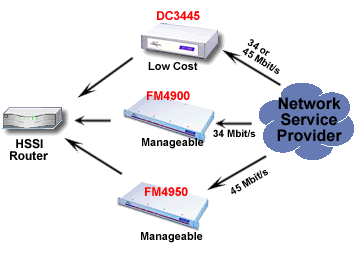 Interface converters used to provision a HSSI service via an E3 34Mbps or DS3 45Mbps G.703 leased line
E3 34Mbps and DS3 45Mbps leased line services typically offer a BNC physical presentation to the customer whereas for high speed applications the customer generally has an HSSI WAN serial interface on his router.
Whilst interface modules may well be available to connect the router directly to the leased line, generally they're much more expensive than an interface converter, are more complex to install and maintain and can often have extra overhead reducing the effective bandwidth available.
The customer wants the cheapest service with the least hassle, and so the best solution is for the service provider to provide the required router interface as part of his service. The service provider also gets the advantage of having a differentiated service which will make it more difficult for the customer to change service providers in the future.
Metrodata developed the DC product range for exactly this application, with an emphasis on achieving the highest possible MTBF (mean time between failure) for these products.
By integrating these interface converters into their product offering, service providers can offer their customers the exact service they want, so that these customers can standardise on their chosen HSSI router interface card in the knowledge that this can be used everywhere in your network, reducing inventory as well as support and maintenance costs.
Metrodata high speed router WAN port interface converters:
Networking The World Since 1989