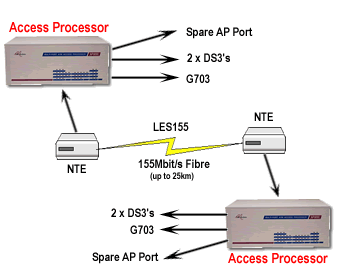 Leased line provision using BT LES155 or dark fibre
Emerging Service Providers often need to lease bandwidth from the encumbant carriers to provide their own infrastructure.
However nowadays there is considerable spare fibre capacity available, especially in metropolitan areas.
The principle here is that rather than lease several high-speed lines over the same route, use dark fibre [or BT LES155, which offers a 155Mbps link via fibre up to 25 km] between two points of presence, and break out the leased-line services remotely.
This should dramatically reduce the cost of providing these leases lines, especially in metropolitan areas where most your customers reside.
The Access Processor Platform from Metrodata can offer a cost effective and comprehensive solution. Whilst the network diagram above shows two DS3 leased lines being delivered over a fibre, in practice a wide variety of applications can be supported, even simultaneously, with potentially very high cost savings. The services supported are shown below:
E1 2Mbps, E2 8Mbps, E3 34Mbps and DS3 45Mbps G.703 leased lines,
LAN connections directly into routers or Ethernet switches,
EIA530, HSSI router connections, and
ASI connections for broadcast video equipment
Networking The World Since 1989