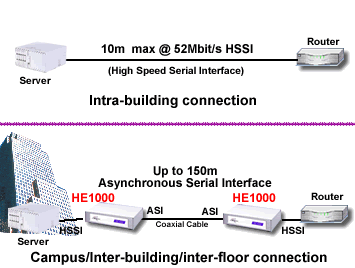 HE1000 offering Router to Server extension within a data centre
HSSI is a common interface for higher speed routers and servers, which uses multistranded copper cable and can operate at 52Mbps max over distances of up to 10 metres.
In data warehouses where a large quantity of routers and servers need interconnecting, this 10 metre restriction can become a major logistics problem, especially when the equipment is located in different rooms or cabinets for security purposes.
So rather than struggling to locate ALL of this equipment closely together, the HE1000 can be used to extend these connection distances to 150 metres using standard coaxial cable.
The HE1000 should be used in pairs to provide a point-to-point HSSI extension.
Further information is available via the HE1000 Product Page
Networking The World Since 1989