Cambridge Broadband have successfully tested the Metrodata Access Processor Range with their Vectastar 3500 System.
The Metrodata and Cambridge Broadband solution allows Tier 1 Carriers to deploy a very cost effective GSM cellular backhaul network.
The low price per port of the Metrodata Access Processor range means that the cost per E1 connection on a point-to-multipoint network is low.
When backhauling GSM traffic, individual E1 circuits are carried as ATM Circuit Emulation Services (CES) from the Vectastar 3500 System across the STM-1/SDH network, and into the GSM BSC. At this point, the STM-1/SDH network is connected to the Metrodata Access Processor which is used as an ATM CES demultiplexer. All the individual E1 circuits are then presented back to the GSM BSC Equipment, with the ATM CES overhead stripped off.
This is shown in the Diagram below, where an Metrodata AP8000 has been used to connect to the SDH/ATM Network at OC-3/STM-1. Then multiple E1 2Mbps G.703 Circuits are connected to the GSM BSC.
Chassis options for Access Processor range include a 3 port (AP3000), a 4-5 port (AP4000) and a 8-9 port (AP8000) version. Currently E1 CES modules are available with either 2 or 4 E1 CES ports. Please contact us if you require further information on Metrodata and Cambridge Broadband, or our Wireless Division in general.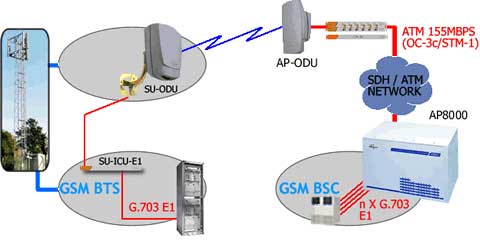 Networking The World Since 1989