Ethernet Circuit Testing & Monitoring for Service Providers
Download our new Solution Brief, to understand how highly capable, and yet cost-effective Ethernet Demarcation Devices such as Metrodata's MetroCONNECT FCM range, offer both comprehensive Circuit Activation Testing (to industry-standard profiles including RFC2544 and Y.1564) and ongoing in-service performance monitoring.
In today's deregulated Telecoms environment, many Ethernet Service Providers are 'Aggregators', deploying Infrastructure circuits acquired on a wholesale basis, for either long-haul connections, 'last mile' access or both. Only by having their own manageable network demarcation devices at their customer premises, can the Service Provider secure important management visibility to local customer connection points and/or end-to-end Wide-Area circuits. Infrastructure Carrier and overlay Service Providers alike therefore require tools to verify that they meet their customers' increasingly demanding technical specifications.
This ability to offer comprehensive SLAs results in a value-added service which can provide a competitive edge in this sector.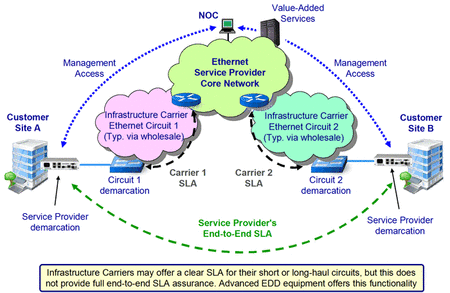 Our new Solution Brief examines the challenges of Management of end-to-end network connections experienced by Ethernet Service Providers and looks at how the use of cost-effective, manageable Ethernet Demarcation Devices can help them to meet those challenges.
Download our Solution Brief:
Networking The World Since 1989