Ethernet Demarcation Devices
Ethernet Demarcation Devices are deployed by Telecoms Carriers or Ethernet Service Providers, at the point of connection of Customer equipment to Ethernet Wide-Area Network (WAN) services. Ethernet Demarcation Device are used for Service configuration and Management, and also for verifcation of the performance characteristics of WAN services.
Circuit Activation Testing
Circuit activation testing as the words suggest takes place when a new circuit is installed to verify that you are getting what you ordered and that it is in full working order before you accept it from your supplier.
But what sort of things does it check?
Typically, it will cover Service Level Agreement (SLA) parameters like:
CIR/EIR (Committed Information Rate / Excess Information Rate)
Packet Loss Ratio
Delay (Latency)
Delay Variation (Jitter)
Availability
How does knowing that help?
The above results will help answer the following questions you may have:
Am I able to send traffic at the data rate I expect and what will happen should there be any bursts of data?
How much data if any is being retransmitted?
What if any compensation action you need to take in connected equipment?
Are you going to have issues with your voice or video services?
Over time how much have you been able to use the link, clearly not something that is a direct result of the activation test but it is the bench mark from where you start measuring.
How is this set up?
Ethernet Demarcation Devicess (EDD's) deployed on each circuit make this a simple task using the Y.1564 profile test below for testing against a pre-defined 'Committed Information Rate' (or 'CIR'), typically part of an SLA definition.
Testing against the SLA in this way produces results much faster, typically the test sequence involves traffic generation increasing over a minimal number of increments up to the CIR, for a given packet size. Provided that the CIR is met, the test proceeds to record characteristics similar to those of the RFC2544 test. The Y.1564 test supports an EMIX (Ethernet Mix) of different packet sizes in order to provide a full qualification of the Network service.
Y.1564 test procedures are 'agnostic' to packet type and addressing. Consequently, by using a tester capable of supporting both Ethernet MAC addressing and IP addressing, then these tests can be conducted across either Layer-2 or layer-3 infrastructures.
Once a test has run, the instigating EDD stores the test result as a report file, which can be automatically uploaded by File Transfer to a Network Management Platform, for incorporation directly into a Carrier's Birth Certificate report for the service. It is alternatively possible to upload of the report to a Management Console (sent as a simple 'flat' text file for maximum flexibility). The whole CAT process is illustrated below, showing a combination of MetroCONNECT FCM9003 and FCM9005 EDD units.
Software Defined Networking
Software Defined Networking (SDN) is the use of software applications to control or program the network. The network operators can then manage the entire network consistently and holistically, regardless of who is supplying the network equipment.
But what can SDN do for me?
It can simplify operations
The concept is to configure the network through software applications using open API's, removing manual programming of devices. This will open the traditionally closed network platforms (due to proprietary approaches and protocols) with the implementation of a common SDN control layer. The intention is to open the entire network and all its devices to a consistent control layer regardless of technology.
Build Networks & Achieve Faster Results
A key advantage of SDN technology is the ability for network operators to write programs that utilize SDN APIs and give applications control over network behaviour. SDN allows users to develop network-aware applications, intelligently monitor network conditions, and automatically adapt the network configuration as needed.
Openness
The use of an open control layer should allow you to choose the best equipment for your needs without being concerned about its backwards (control level) compatibility with equipment you already have. This should promote the use of multi-vendor interoperability to include the control level.
SDN enables networks to be controlled by the software that resides beyond the networking devices that provide physical connectivity. As a result, network operators can tailor how their networks support new services, and even individual customers. By decoupling the hardware from the software, operators can introduce innovative, differentiated new services free from the constraints of closed and proprietary platforms.
Services and applications running on SDN technology are separated from the underlying technologies and hardware that provide physical connectivity from network control. Applications will interact with the network through APIs, instead of management interfaces tightly coupled to the hardware.
This opens the door for you to consider Metrodata as a supplier of your EDD's which have already been introduced into SDN environments under the control of API's. In co-operation with PacketFront Software we have already implemented carrier class network capabilities
Ease of Use
Below, in just eight screens (once logged via your web browser) you can create and configure an SLA for a service.
Select SLAs Button
Name the SLA and configure the bandwidth
Set the bandwidth information to be checked against
Return to the homepage to set up flows or add more SLA configurations
Goto the Flows (services) configuration screens
Add a new flow
Set up the flow details
Select a SLA policing already defined
Service Level Agreement (SLA) Management
Above and beyond simple connectivity management, customers may ask of their Service Providers that they provision multiple traffic streams across their Ethernet 'pipe' connections, to which potentially different criteria may apply for key network performance parameters, including acceptable frame loss ratio, traffic delay and delay variation, together with comprehensive traffic throughput 'policing'. Providers may then be faced with the challenge of proving to their customers, at the time of provisioning, that such performance parameters are complied with for each individual Service data stream within a given end-to-end Ethernet connection. Such parameters may be detailed within a tightly defined Service Level Agreement (SLA).
The SLA is a commitment to a service level provided by a Service Provider (Organisation 1 below) to its Customer (Organisation 2 below) expressed in a contractual document.
It generates a Demarcation Line between the Service Provider and Customer for both to be able to allocate their necessary resources, process and capabilities to fulfil this agreement, as illustrated below.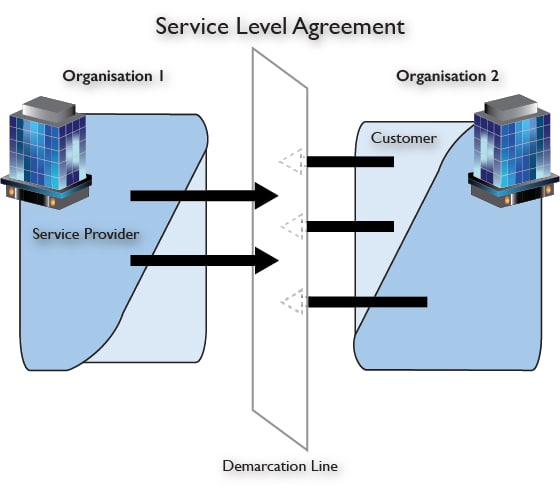 Furthermore, Service Providers may not only need to demonstrate SLA compliance at the time of commissioning, but they may be required subsequently to monitor 'in-service' traffic and take pro-active remedial steps with regard to any potential breach of SLA. This is done by using the advanced packet processing capabilities of the Ethernet Demarcation Device to identify parameters that fall outside of the agreed SLA and alarm them to the network control centre or directly to the customer depending on the way the Ethernet Demarcation Device is configured.
All of these capabilities, incorporated within the most recent generation of advanced Ethernet Demarcation Devices, ensure that Service Providers' customers get what they pay for and can prove it.
In-Service & On-Demand Testing
Using Metrodata Ethernet Demarcation Devices an Enterprise Network manager can thoroughly test the network, whenever required, throughout the organisation. Also, they can bring additional value through In-Service monitoring.
By implementing protocols primarily developed for the Packet-based Carrier WAN industry, Metrodata's Ethernet Demarcation Devices can provide background 'in-service' monitoring of network performance and SLA characteristics. The RFC2544 and Y.1564 test profiles mentioned previously are limited as they require full availability of the service being tested, meaning that these tests are inappropriate for 'in-service' usage. So, the ability to monitor network performance whilst the network is fully available for regular users, without impacting on the throughput of potentially critical data, is an important additional benefit.
Normally, on-demand testing would require a dedicated Ethernet test set, featuring comprehensive controls for configuration of all the appropriate parameters to match the SLA required of the network under test. Such devices (see diagram below) are excellent but expensive, and even a larger Enterprise will not wish the expense of maintaining such equipment at all locations. Testing might typically involve a specific trip to site by a well-trained resource, to connect the test set at the demarcation point of the Service Provider's connection and run the test. Moreover, this type of equipment will launch test traffic into the network and require it to be looped or 'reflected' back at the far end of the WAN link, to enable evaluation and report compilation back at the tester. So, it may additionally be necessary to have a suitable resource at the destination point for the network link under test, to facilitate this, as illustrated in the diagram below.
Metrodata's family of Carrier EDD units support the Layer-3 'Two-Way Active Measurement Protocol' (TWAMP) for in-service and on-demand monitoring of network Delay (Latency), Delay Variation (Jitter) and Packet-Loss parameters across Ethernet and IP infrastructures respectively. These features enable Metrodata devices to actively monitor key performance characteristics and, furthermore, to issue pro-active SNMP 'Trap' alarms to the Network Operations Centre in the event that any monitored link within the WAN domain fails to meet pre-determined SLA requirements.
This 'in-service' and on-demand monitoring functionality also facilitates the collation of long-term traffic profiling data which can be invaluable for understanding the overall characteristics of a network under variable load conditions during an extended period. This underlines the real benefit of permanently embedded and always-accessible test devices, when compared with even the most sophisticated 'plug-in' test sets.
The diagram below illustrates the case of the TWAMP protocol being used between two NetTESTER devices to provide alarms to the NOC, should pre-determined maximum levels for Delay (Latency), Delay Variation (Jitter) or Packet-Loss Ratio, be exceeded for traffic across the WAN link between remote sites A and B. The process is identical for Metrodata's range of EDDs.
Such monitoring and alarming can enable the Enterprise Management team to respond immediately to potential network performance problems, perhaps even before their users have become aware of any issues. It also acts as a permanent log of the availability and performance of your network against your SLA which may prove useful when renegotiating your contract.
Metrodata Carrier EDD units also support Layer-1 network testing features for physical layer faults. Specifically, both product ranges support TDR and optionally automated OTDR (Optical Time-Domain Reflectometry) functionality. OTDR functionality is particularly useful for long haul dark fibre connections where there is concern about disconnection or breakage of the fibre.
Metrodata's Carrier EDD units when enabled with OTDR capabilities can monitor and generate alarms in the event of a fibre fault, issuing an SNMP Trap alarm which when translated via a MIB, can produce a message e.g. "Fibre length previously 40.258km. At time 13:04:26, service down, with fibre length reported as 15.219km".
OTDR is particularly useful in assisting network managers with the notoriously difficult job of locating the exact location of fibre faults and represents another value-adding benefit of a permanently embedded NetTESTER in your network if the Metrodata range of EDDs are not already being used.
Having the ability to test your network on demand or monitor it continuously is clearly very attractive, but it would be highly frustrating if to achieve this you are faced with complex configuration and change management, which is why Metrodata have implemented an easy-to-use menu driven configuration system.
LAN & WAN
Zero Touch installation
Copper and fibre physical connection up to 10Gbps throughput
SFP DDM statistics and option for integrated & automated 'OTDR' fibre fault location reporting
On-demand Testing
Embedded test traffic generation, loop-back & analysis, accurate to micro-second resolution
RFC2544, ITU-T Y.1564 and 'custom' test profiles, for both Layer-2 (Ethernet MAC) and Layer-3 (IP) traffic
SNMP data-retrieval support for monitoring/charting of key data over extended time-periods at NOC platform
'Always On' SLA Monitoring
Delay (latency) and delay-variation (jitter) monitoring via ITU-T.1731 and TWAMP-lite
Alarming in the event of pre-defined 'Service Level Agreement' (SLA) breach such as, for example, latency going above a specified threshold
Overall network visibility, configuration/management access and alarming via Management Platform
Management & Alarms
Management via local terminal or remotely via Telnet/secure SSH or Web Browser
TACACS+ for management user authentication
Comprehensive alarming with support for SNMP 'Trap' alerts to NOC platform(s).
The MetroCONNECT EDD Family
Metrodata's family of MetroCONNECT EDD products currently include the FCM9003, the FCM9005 and the FCM10G05. Developed to the same Carrier-quality criteria born of over 25 years of supply to the Telecoms Industry, and with a heritage from Metrodata's well-established MetroCONNECT Ethernet Extension & Service Delivery product line, the MetroCONNECT EDD products offer advanced custom-hardware based facilities for comprehensive services for both Layer-2 (Ethernet Switched) and Layer-3 (IP Routed) network infrastructures.
Networking The World Since 1989