New Additions to MetroWAVE Range
MetroWAVE products are used to transport multiple services, each using different wavelengths, across a single conventional fibre pair, to maximise the utilization of a fibre link. Supporting multiple different types of service, and data rates up to at least 10Gbps per port (or 40Gbps in some cases), multiplexing and de-multiplexing functions are implemented entirely 'passively', i.e. optically, without using any conversions to and from electrical signalling. Consequently, MetroWAVE products offer extremely reliable solutions for a wide variety of applications such as Metro area Ethernet / IP service distribution and Data Centre interconnections.
The MetroWAVE range has been enhanced to facilitate smooth progression from low cost-of-entry, limited port-count CWDM solutions, through to high density, (up to 40-port) DWDM solutions. Moreover, for longer distance connectivity applications, Metrodata now offers optical fibre amplification (EDFA) and 'dispersion compensation' products, considerably expanding the range of applications for which the MetroWAVE family can be used.
Our new downloadable 'MetroWAVE Range Guide' (click below) provides both an overview of the technology behind Wavelength Division Multiplexing and an insight into the MetroWAVE family, illustrating typical applications and expansion pathways. Alternatively click the active links above to go straight to specific details for the CWDM, DWDM and amplification products.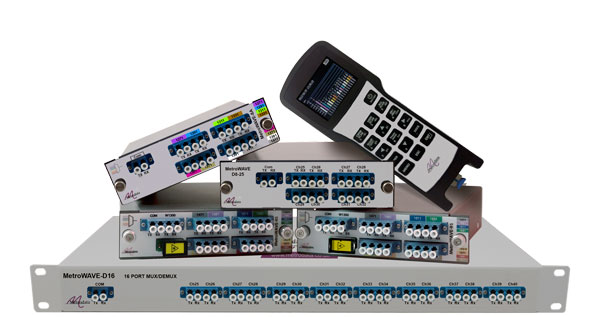 Networking The World Since 1989