EDFA Optical Amplifiers & DCM Dispersion Compensation
Longer distance network design with CWDM and DWDM multiplexing becomes more complex as additional factors need to be considered:
Transceiver availability: 10G fibre transceivers are only available with distance ratings up to 80km, with longer distance 1G SFP transceivers restricted to the upper CWDM band.
EDFA Optical Amplifiers: operate in a narrow band around 1550nm, which covers up to 48 DWDM wavelengths, but only a single CWDM wavelength.
Dispersion compensation: becomes important for 10G data rates and above, also for fibre link distances of over 20km.
So if the longer term network plan includes higher data rates such as 10G or more than 8 CWDM wavelengths, then longer distance fibre runs will need to be designed around Metrodata's DWDM multiplexers, EDFA optical amplifiers and DCM dispersion compensation devices.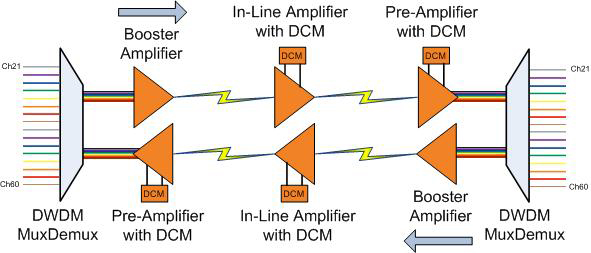 MetroWAVE-EDFA optical amplifiers provide multi-function, low noise, Erbium-Doped Fibre Amplifier (EDFA) solutions that are ideal for metro Dense Wavelength Division Multiplexing (DWDM) applications.
Booster Amplifiers: to maximise the available transmit power
In-line Amplifiers: to perform a repeater function in the middle of an optical link
Pre-Amplifiers: to maximise the available receive power
MetroWAVE-DCM dispersion compensation devices perform slope compensation for standard G.652 singlemode fibre in the C-band, allowing transceivers to be used beyond their distance ratings.
Compensation is available up to 100km
Networking The World Since 1989