DWDM EDFA Optical Amplifiers
MetroWAVE-EDFA optical amplifiers provide multi-function, low noise, Erbium-Doped Fibre Amplifier (EDFA) solutions that are ideal for metro Dense Wavelength Division Multiplexing (DWDM) applications.
EDFA Optical Amplifier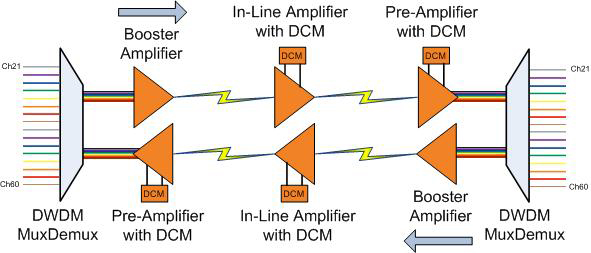 Three Optical Amplifier C-band applications

Booster Amplifier
In-Line Amplifier
Pre-Amplifier

Metro DWDM distance extension
Output power levels from 13 ~ 22dBm supported
Gain of 8 ~ 33dBm supported
Low noise figure: typically 5dB
Flat Gain (<1dB variance) over the entire amplified band
Optional mid-stage port for dispersion compensation device
The MetroWAVE-EDFA family of C-Band EDFA Optical Amplifiers is part of the MetroWAVE family of fibre networking products. Product variants are available to support the amplifiers required for long haul DWDM networking.
Booster amplifiers maximise the available transmit power, supporting high input powers, high output powers and medium optical Gain. Boosters are designed to amplify aggregated optical inputs from DWDM multiplexers.
In-line amplifiers perform a repeater function in the middle of an optical link, supporting medium to low input powers, high output powers and high optical Gain, with a low noise figure.
Pre-amplifiers maximise the available receiver power, supporting medium to low input powers, medium output powers, and medium Gain.
General Specifications

Parameter
Min
Typ
Max
Operating Wavelength
1528nm
1565nm
Combined Output Power
22dBm
Gain
33dB
Input Power - BA
-10dBm
Max. o/p power - Gain
Inout Power - PA/LA
Max. i/p power -25
Max. o/p power - Gain
Noise Figure
5.0dB
Gain Flatness
1.0dB
Input threshold
-34dBm
Can be adjusted
Polarisation dependence loss
0.3dB
Polarisation dependence Gain
0.4dB
Polarisation mode dispersion
0.5ps
Pump power leakage
-30dBm
Return Loss
45dB
Power Supply

Power Consumption
≤30W
Environment

Operating Temperature
-5 °C to +60 °C
Storage Temperature
-40 °C to +85 °C
Relative Humidity
5 to 95% maximum, non-condensing
Dimensions

Size (W x D x H)mm
435 x 350 x 43.6
Part number format: "wx/Gy-Mz", e.g. MetroWAVE-EDFA-BA20/G8-2AC
| | |
| --- | --- |
| 1 | Where "w" = "BA" for Booster Amplifier, "PA" for Pre-Amplifier, or "LA" for In-Line Amplifier |
| 2 | Where "x" = Maximum combined output power in dBm expressed as 2-digits, e.g. 16 for 16dBm |
| 3 | Where "y" = Amplifier gain in dB, e.g. 8 for 8dBm gain, or 20 for 20dBm gain |
| 4 | Where "-Mz" = Mid-stage insertion loss in dB, e.g. "-M8" for 8dB or "" for none |
Chassis Options

MetroWAVE-EDFA-wx/Gy-Mz-2AC
1U chassis, Dual 220-250VAC PSUs
MetroWAVE-EDFA-wx/Gy-Mz-2DC
1U chassis, Dual -48VDC PSUs
MetroWAVE-EDFA-wx/Gy-Mz-ACDC
1U chassis, Single 220-250VAC and single -48VDC PSUs
Common Modules

Model
Description
Gain dB
Max. Output
Min. Output
Max. Input
Typ. NF
Booster Amplifiers
BA16/G12
Max. Output 16dBm, Gain 12dB
12dB
16dB
-10dBm
4dBm
5dB
BA20/G12
Max. Output 20dBm, Gain 12dB
12dB
20dB
-10dBm
8dBm
5dB
Pre-Amplifiers
PA16/G20
Max. Output 16dBm, Gain 20dBm
20dB
16dB
-29dBm
-4dBm
4.5dB
PA16/G20-M8
Max. Output 16dBm, Gain 20dB, Mid-stage 8dB
20dB
16dB
-29dBm
-4dBm
5db
PA16/G25
Max. Output 16dBm, Gain 25dB
25dB
16dB
-32dBm
-9dBm
4.5dB
Whilst Metrodata's fibre product ranges use industry standard user exchangeable SFPs, it is recommended that these are purchased from Metrodata to guarantee their specification and compatibility with each other. For all fibre transceivers including vendor compatible SFP, SFP+, XFP, X2 and XENPAK transceivers, with long distance, CWDM or DWDM specifications then please contact our Sales Team with your requirements.
Related Products
Optical Fibre TAPs - MetroWAVE
Optical Multiplexers