Under the MetroWAVE brand, Metrodata offers interchangeable 'plug-in' Transceivers for Data Communications platforms including Switches, Routers, Workstations and Servers from all major manufacturers. Metrodata sells a wide variety of Transceivers in the most popular industry-standard formats. Accurate 'vendor coding' ensures compatibility with the major equipment vendors' expensive 'own-brand' products.
The Metrodata team are specialists in Interface Matching for Networking and Communications products, and have experience in protocols including Ethernet, PDH/SDH, Serial, ATM and, most importantly, all aspects of Fibre Communications, including Wavelength Division Multiplexing (CWDM and DWDM).
Networking equipment has evolved to use pluggable transceivers rather than the historic fixed-format interfaces, typically soldered onto a circuit board. There are various different MSA (Multi-Source Agreement) standards for pluggable transceivers, although some of the most common varieties are shown below. Our prices are amongst the best in the market, so please contact us for any of your transceiver requirements.
Small Form Factor Pluggable (SFP) is a compact, hot pluggable transceiver used in both Telecommunications and Data Communications applications. Standard fibre SFP transceivers have dual 'LC' connectors, whilst single-fibre 'BiDi', SFP transceivers present a single 'LC' or 'SC' connector. Operating speeds vary from 100Mbps to 4Gbps, supporting fibre links of up to 200km.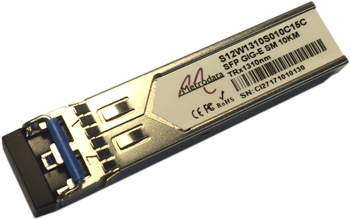 Enhanced Small Form Factor Pluggable (SFP+) transceivers use the same physical case format as SFP, but support operating speeds of 8Gbps and 10Gbps.
SFP and SFP+ transceivers are readily available for both multi-mode and single-mode fibre applications and also for copper cable via both RJ45 and, albeit rarely, miniature dual co-axial connectors.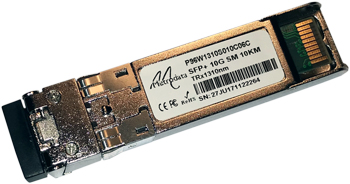 Slightly larger than SFP+ devices, XFP transceivers support 10Gbps Ethernet, 10Gbps Fibre Channel, SDH (STM-48) and Sonet (OC-192) applications.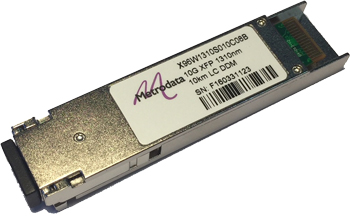 Offering 40Gbps connections via a number of multiplexed wavelengths, QSFP+ transceivers are slightly larger again than the XFP format.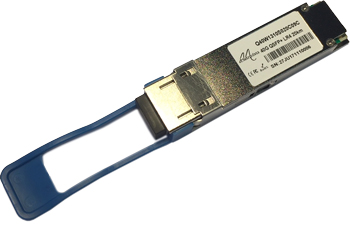 These same fibre transceivers are used in a wide variety of applications including:
IP Networks (e.g. Fast Ethernet, Gigabit Ethernet and 10Gbps Ethernet)
Storage Area Networks (e.g. Fibre Channel at 1G, 2G, 4G, 8G and 10G)
SDH and Sonet Telecoms infrastructures (e.g. STM-1/OC-3, STM-48/OC-192)
High capacity CWDM and DWDM networks.
A number of fibre optic wavelengths are commonly supported:
850nm: Historic wavelength used for within building connections over multi-mode fibre
1310nm: standard wavelength use for both multi-mode (up to 2km) and single-mode (up to 40km) applications
1550nm: wavelength used for long distance connections within Telecoms Carrier and Service Provider solutions
CWDM: 18 narrow band wavelengths used for medium density fibre optic multiplexing applications, within data centres or within metropolitan areas
DWDM: Very narrow band wavelengths used for high density fibre optic multiplexing applications, often over long distances within Telecoms Carrier backbone networks
BiDi : Use of two different standard wavelengths, one each for the transmitter and the receiver, so that bi-directional communication can be supported over a single fibre core.
Exceptionally, Metrodata also offers a range of optical transceivers with built-in fibre fault localisation. These devices, whilst normally acting as regular single-fibre data transceivers for services of up to 1Gbps, incorporate automated 'OTDR' (Optical Time-domain Reflectometer) functionality. In combination with Metrodata's 'MetroCONNECT' family of Managed Ethernet Demarcation and Service Delivery products, this enables both Management reporting of the length of fibre links, and also pro-active alarming in the event of a fibre breakage or disconnection, in which case the distance to the fault is reported (via an industry-standard SNMP 'TRAP' alarm), enabling rapid action to fix the problem. Click here for more details.
Networking The World Since 1989