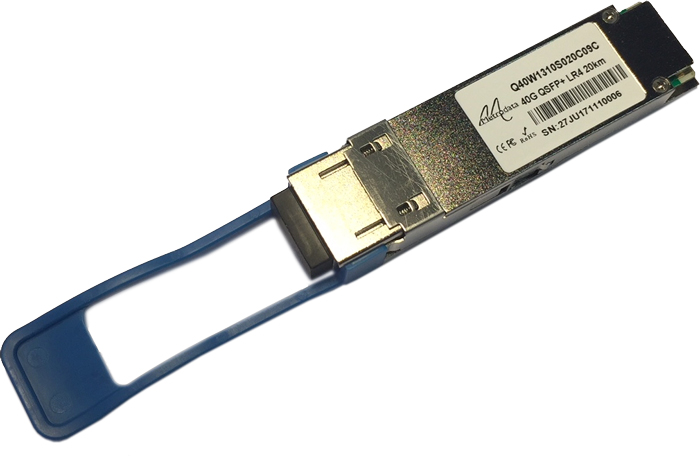 QSFP+ Transceivers
Offering 40Gbps connections via a number of multiplexed wavelengths, QSFP+ transceivers are slightly larger than the XFP format.
QSFP+ Fibre Transceiver
40 Gigabit QSFP+
Singlemode and Multimode Fibre
Digital Diagnostics Monitoring
Dual Fibre and Parallel Singlemode
Hot-pluggable
Dual LC or MPO connectors
Up to 40km distances
Installed in any MSA compliant port
Specific vendor version programming available
The QSFP+ optical transceivers are used in a wide variety of applications including:
IP Networks
Links between Data Centres
QSFP+ 40Gbps
Order Code
Wavelength
Media
Distance
Tx Max
(dBm)
Tx Min
(dBm)
Rx Max
(dBm)
Rx Min
(dBm)
Min Attenuation
(dB)
Loss Budget
(dB)
80-39-031
4 CWDM Lanes 1270 - 1330nm
SMF Dual-LC
10km
2.3
-7.0
2.3
-13.7
0.0
6.7
80-39-032
4 CWDM Lanes 1270 - 1330nm
SMF Dual-LC
20km
2.3
-4.0
2.3
-13.7
0.0
9.7
80-39-033
4 CWDM Lanes 1270 - 1330nm
SMF Dual-LC
40km
4.5
-2.7
-4.5
-21.2
9.0
18.5
Further Information
Note:
Exact optical specifications may vary from those stated above which are representative for loss budgetary design purposes. If link optical parameters are marginal or critical then re-check these optical specifications at the time of purchase.
Operating distances are nominal and actually depend on fibre link losses which are made up of the fibre length and attenuation, as well as the number and quality of fibre connections and fibre patches/splices.
Please note that failure to observe the Rx Max and Min Attenuation parameters may cause transceiver damage.
Many other QSFP+ transceivers are also available with a wide range of different transmission/reception parameters.
Related Products