ATM Circuit Emulation
Metrodata's ATM Circuit Emulation DSU products allow legacy non-ATM applications to be transported across an ATM network.
ATM Circuit Emulation
Transport of non-ATM legacy services across an ATM network
Wide variety of European & North American interface standards supported
User friendly set-up menus - easy to install & configure
Comprehensive performance monitoring & diagnostics
Integral remote management supporting Telnet & SNMP
All units 19 inch rack-mountable, 1U high
Optional universal AC or -48VDC power supply
Product Variants
The drive towards converged network infrastructure means that there is often a requirement to transport legacy non-ATM applications such as PBX or broadcast video over a converged ATM network. Two options exist: either to replace or upgrade the legacy equipment to support native ATM interfaces which can be very expensive and disruptive, or to use an ATM Circuit Emulation (CE) DSU to provide the conversion function at an economic cost. ATM circuit emulation products are available for converting a wide range of legacy interfaces including E1, E2, E3 and DS3 to the common fibre and copper interfaces supported by ATM equipment including E3, DS3 and STM1/OC-3.
The ATM circuit emulation DSU is a 2-port device that segments the legacy traffic into a stream of ATM cells, which are then transported via a permanent virtual connection (PVC) across the ATM network. At the far end the ATM circuit emulation DSU recover the original clock and reassembles the original bit-stream. An integral ATM cell buffer allows for transient traffic bursts without loss of data. This segmentation and reassembly processes is defined in the ITU I 363.1 AAL.1 specification.
The ATM circuit emulation DSU has built in diagnostic loops which segment the link and assist in locating device, cabling or network faults. Extensive performance monitoring statistics are also gathered and stored for 24 hours. This provides a substantial database for assessing the performance of the network, which can be used to identify alarms, errors or data loss. Front panel LEDs also give indication of major and minor alarms.
The default configuration is sufficient to get most installations applications operational, making this a truly plug and play device. Configuration can be performed via a menu driven console port, or via an integrated LM1100 SNMP enabler port which offers substantial Telnet and SNMP capability.
The main fibre interfaces supported are as follows:
1300nm multimode offering transmission distances up to 5km over multimode fibre
1300nm singlemode short haul offering transmission distances up to 30km over singlemode fibre
1300nm singlemode long haul offering transmission distances up to 70km over singlemode fibre
Using fibre optics these products extend the operating distance for an STM-1/OC-3 interface to 5km using multimode fibre, or to either 30km or 70km using singlemode fibre. Despite these quoted maximum operating distances, specific installations may only operate over lower distances due to the variations in losses of different types of fibre cable, the use of connecting fibre cables, or patch panels. When operating over 50% of the maximum distances it is advisable to calculate all fibre optic connector and cable losses and compare these with the fibre optic loss budget specified for this product.
As standard fibre ports are supplied with SC connectors and operate at a nominal wavelength of 1300nm. Other wavelengths are available on request, e.g. 850nm, 1550nm, 1550/1300 WDM. Other connector options are also available on request, e.g. ST, FC.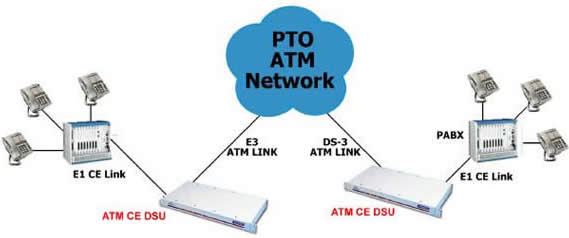 This application shows how a pair of ATM circuit emulation DSU products can be used to transport an E1 link between two PBX systems over an ATM network, even though the connections into the ATM network at either end are different.
Singlemode Short Haul Interface

Port
G.957
Interface
Dual SC Singlemode 8/125um
Wavelength
1310um
Tx Power
-8 dBm to -15 dBm
Max Rx input power
-8 dBm
Rx Sensitivity
-8 to -31 dBm
Optical Loss Budget
-15-(-31) = 16dB
Singlemode Long Haul Interface

Port
G.957
Interface
Dual SC Singlemode 8/125um
Wavelength
1310um
Tx Power
0 dBm to -5 dBm
Max Rx input power
-8 dBm (may need attenuator
Rx Sensitivity
-8 to -34 dBm
Optical Loss Budget
-5-(-34) = 29dB
Multimode Fibre Interface

Port
G.957
Interface
Dual SC Multimode 62.5/125um
Wavelength
1310um
Tx Power
-14 dBm to -19 dBm
Max Rx input power
-14 dBm
Rx Sensitivity
-14 to -30 dBm
Optical Loss Budget
-19-(-30) = 11dB
SDH/Sonet BNC Electrical Interface

Physical
BNC (75 ohm) balanced
Cable
75 ohm coax
Encoding
CMI
Cable Lengths
RG59 = 70m, UR202 = 80m
SDH/Sonet RJ45 Electrical Interface

Physical
RJ45 (120 ohm) unbalanced
Cable
75 ohm STP
Encoding
NRZ
Cable Lengths
RG59 = 70m, UR202 = 80m
SDH/Sonet ATM Interface Higher Layers

Rate
155.52Mbps per G.957
Cable
Sonet/STS-3c SDH/STM-1 per G.709
Encoding
I.432
Clocks
Internal, Loop, Though
E1 Interface

Physical
BNC (75 ohm), G.703, HDB3
Rate
2.048Mbps +/- 50ppm per G703
Framing
G704
High Level Framing
ETS300-213 or G804
Jitter
Per G823
Clocks
Internal, Loop, Through
E2 Interface

Physical
BNC (75 ohm), G.703, HDB3
Rate
8.448 Mbps +/- 30ppm per G703
Framing
G804, G832
PLCP
None
Jitter
Per G823
Clocks
Internal, Loop, Through
E3 Interface

Physical
BNC (75 ohm), G.703, CMI
Rate
34.368Mbps +/- 20ppm per G703
Framing
G804, G832
PLCP
None
Jitter
Per G823
Clocks
Internal, Loop, Through
E4 Interface

Physical
BNC (75 ohm), G.703, CMI
Rate
139.264Mbps +/- 15ppm per G703
Framing
G804, G832
PLCP
None
Jitter
Per G823
Clocks
Internal, Loop, Through
DS3 Interface

Physical
BNC (75 ohm), G.703, CMI
Rate
44.736Mbps +/- 20ppm per G703
Framing
T1.107/107a
PLCP
Tr-TSV 000 773
Jitter
Per G823
Clocks
Internal, Loop, Through
Environment

Temp
0-50 deg
Humidity
0-95% RH, non condensing
Pressure
86-106 kPa
Power Supply

AC Mains
100-250 VAC, 50-400Hz, 250mA, IEC connector
DC Power
-36 to -72 VDC, 200-100mA
Packaging

Type
1U, 19 inch rack mount
Dimensions
425 x 213 x 44 (W x D x H)
Compliance

Safety
EN60950
EMC
EMC EN55032
Management
RFC1213 (MIBII), RFC1495 (Telnet), RFC1157 (SNMP), RFC1406 (DS1/E1),
RFC1407 (DS3/E3), RFC1595 (Sonet), RFC1215 (Traps)
Statistics
G.821, AT&T54016:15min, 24hr totals
Status & Diagnostics

Loop backs
Local per direction on the ATM port
L0/1 Stats
Transmission faults
L2 Stats
Cell throughput, good cells, bad cells, corrected cells, reassembly problems
Alarms

Line
Major, minor
UNI
ATM UNI fault
Part Number
Electrical Network Interfaces
VAC Mains
VDC Power
E3 - E1 CE
80-11-002
80-23-002
E3 - E2 CE
80-11-009
80-23-009
DS3 - E1 CE
80-11-003
80-23-003
DS3 - E2 CE
80-11-010
80-23-010
DS3 - E3 CE
80-11-016
80-23-016
STM1 RJ45NE - E1 CE
80-11-038
80-23-038
STM1 RJ45NE - E2 CE
80-11-039
80-23-039
STM1 RJ45NE - E3 CE
80-11-040
80-23-040
STM1 RJ45NE - DS3 CE
80-11-041
80-23-041
Part Number
Fibre Network Interfaces
VAC Mains
VDC Power
STM-1 MM SC - E1 CE
80-11-026
80-23-026
STM-1 MM SC - E2 CE
80-11-028
80-23-028
STM-1 MM SC - E3 CE
80-11-030
80-23-030
STM-1 MM SC - DS3 CE
80-11-032
80-23-032
STM-1 SM SH SC - E1 CE
80-11-027
80-23-027
STM-1 SM SH SC - E2 CE
80-11-029
80-23-029
STM-1 SM SH SC - E3 CE
80-11-031
80-23-031
STM-1 SM SH SC - DS3 CE
80-11-033
80-23-033
STM-1 SM LH SC - E1 CE
80-11-034
80-23-034
STM-1 SM LH SC - E2 CE
80-11-035
80-23-035
STM-1 SM LH SC - E3 CE
80-11-036
80-23-036
STM-1 SM LH SC - DS3 CE
80-11-037
80-23-037