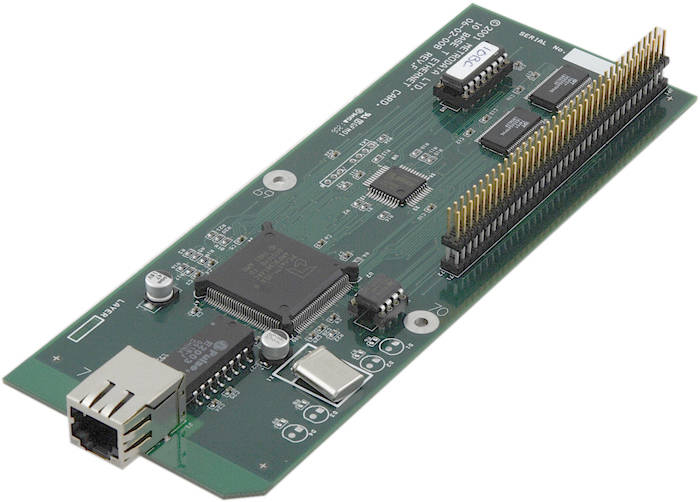 SNMP Enabler for FM Range
The LM1100 SNMP Enabler is an optional interface card which may be fitted to various Metrodata DSU's. It provides the capability to control and monitor the DSU via a 10BaseT Ethernet interface.
SNMP Enabler for FM Range
Control & Manage a WAN link via a LAN
Visibility of the WAN link
View connection Statistics
Enable SNMP in the FM range
A typical application for the LM1100 would be the control and management of a WAN (Wide Area Network) from a LAN (Local Area Network) link using a SNMP (Simple Network Management Protocol) NMS (Network Management System).
The LM1100 SNMP Enabler supports a variety of Management Information Bases (MIB's) which must be provided to the User's Network Management System (NMS) to provide the NMS with a database of managed objects.
The remote management access enabled using the LM1100 SNMP Enabler allows both the monitoring of status and the full range of configuration changes using either SNMP or Telnet.
In addition to SNMP statistics which are obtained by polling round the network, SNMP also provides Traps which enable important unsolicited messages relating to the system to be handled on an interrupt basis.
The LM1100 SNMP Enabler in combination with a Metrodata DSU gives the Network Manager or Administrator extensive visibility and control of the Wide Area link. The ability to monitor performance statistics and network errors from a centralised point enables quick corrective action to be taken thereby enhancing network efficiency, and providing information which can help to diagnose problems and manage even the most complex networks.
For more information please consult the user manual.
Fitting an LM1100 SNMP Enabler into a Metrodata FM4x00 series interface converter product gives the Network Manager or Administrator comprehensive control and extensive visibility of these Wide Area links. Both local and remote devices can perform this configuration and management function using either SNMP or Telnet access.
In most instances the LM1100 is factory fitted with the original order of a unit from the FM range, however if you have already purchased a FM unit without the LM1100 it is possible to purchase it independently and fitted by a qualified service engineer by
Metrodata offer a fitting/refurbishment service if required, contact our sales team for further information.
| | |
| --- | --- |
| | Part Number |
| LM1100 SNMP Enabler (when bought fitted into an FM4xx0 product) | 14-02-139 |
| LM1100 SNMP Enabler (plus instructions) | 80-05-112 |