Fibre Products
Fibre has become commonplace, in both campus environments and the provision of Carrier data services. Metrodata has a wide portfolio of fibre conversion products which will help you to migrate both your new and your existing services onto this fibre infrastructure. Technologies such as Wave Division Multiplexing (BiDi, CWDM and DWDM) use more than one colour of light to increase the capacity of existing fibres, which is opening up far more bandwidth capability for individual fibres. With many years of fibre expertise Metrodata can help you to get the benefits of this fibre and thereby save money without having to replace your legacy equipment.
Fibre Modems
Metrodata's wide range of fibre modems can extend legacy technologies such as serial, PDH and SDH over fibre. These very different applications can subsequently be combined together natively over a fibre infrastructure reducing a complex multi-service integration problem into fibre plumbing, adding minimal delay and complexity.

Metrodata fibre modems offer extension of a wide range of legacy technologies over both multimode and singlemode fibre, over both short and long distances:
Metrodata fibre converters are supplied as standard with SC or LC connectors operating at a nominal wavelength of 1300nm. Other wavelengths are available on request, e.g. 850nm, 1550nm, 1550/1310 BiDi, CWDM and DWDM. Other connectors are available on request, e.g. ST, FC. Long distance applications e.g. 120km or even 200km can also be supported.
Ethernet Media Converters
As fibre becomes more commonplace, there is a growing need to connect LAN equipment together via fibre, either over short distances within a building (generally Multimode) or over longer distances between buildings (generally Singlemode). There is also a need to convert between different fibre types e.g. between a router Multimode fibre port and a long distance Singlemode fibre supplied by a Telecoms carrier.
As companies expand and move forward in the utilization of their existing cabling structures, there is a need to convert different fibre types from either the supplier carrier or the existing legacy copper infrastructure to a newer fibre installation or to expand an existing fibre system. This should be both economical and transparent to the network user, as well as extending the life of and distance of network itself.

Whether you need to use Singlemode fibre for long distance or Multimode fibre for short distance, Metrodata has a solution to your Ethernet media conversion problem.
Multipexers
Metrodata offer a variety of different products for multiplexing various services, using a variety of underlying technologies, such as Fibre, TDM and SDH.
Take a look at the following page for full information on our Fibre Optical Multiplexers.
Optical TAP
Metrodata Optical Fibre TAPs are unpowered passive devices for the highest possible reliability that tap off a small amount of the optical power, allowing your critical network infrastructure to be transparently monitored.
The user data is not degraded, modified or terminated. Transmission speeds up to 10Gbps (or even higher) can be supported via inline port monitoring.
MetroWAVE-TAP
EDFA Optical Amplifiers & DCM Dispersion Compensation
Longer distance network design with CWDM and DWDM multiplexing becomes more complex as additional factors need to be considered:
Transceiver availability: 10G fibre transceivers are only available with distance ratings up to 80km, with longer distance 1G SFP transceivers restricted to the upper CWDM band.
EDFA Optical Amplifiers: operate in a narrow band around 1550nm, which covers up to 48 DWDM wavelengths, but only a single CWDM wavelength.
Dispersion compensation: becomes important for 10G data rates and above, also for fibre link distances of over 20km.
So if the longer term network plan includes higher data rates such as 10G or more than 8 CWDM wavelengths, then longer distance fibre runs will need to be designed around Metrodata's DWDM multiplexers, EDFA optical amplifiers and DCM dispersion compensation devices.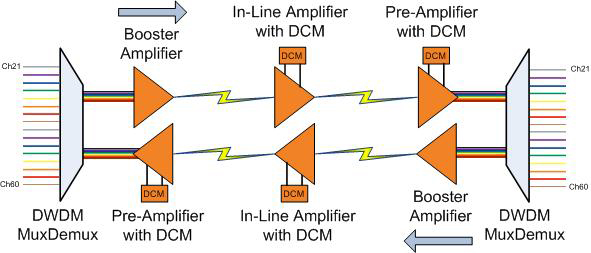 MetroWAVE-EDFA optical amplifiers provide multi-function, low noise, Erbium-Doped Fibre Amplifier (EDFA) solutions that are ideal for metro Dense Wavelength Division Multiplexing (DWDM) applications.
Booster Amplifiers: to maximise the available transmit power
In-line Amplifiers: to perform a repeater function in the middle of an optical link
Pre-Amplifiers: to maximise the available receive power
For more information view the MetroWAVE-EDFA Optical Amplifier Product Page
MetroWAVE-DCM dispersion compensation devices perform slope compensation for standard G.652 singlemode fibre in the C-band, allowing transceivers to be used beyond their distance ratings.
Compensation is available up to 100km
For more information view the MetroWAVE-DCM Dispersion Compensation Device Product Page
CWDM & DWDM Power Meters
Metrodata WDM Power Meter's provide high productivity when testing high density fibre optic systems. With quick set up and real time updates on the display they offer genuine time savings when testing.
These CWDM and DWDM power meters are portable, lightweight and easy to use, whether in the lab or out in the field.
Metrodata offer two variants:
Networking The World Since 1989