Ethernet Demarcation Device
The FCM9005 Ethernet Demarcation Device is powerful & versatile offering copper & fibre demarcation for Carrier Ethernet Service Providers.
Managed Ethernet Demarcation Device for Ethernet Services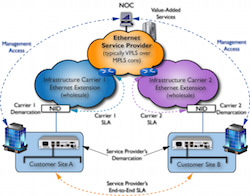 Up to 1Gbps with both Copper & Fibre LAN and Network Ports
802.3ah & 802.1ag OAM service integrity checking (EFM, CFM)
Integrated RFC2544 and Y.1564 test traffic generation, loop back and reporting, for both Layer-2 (Ethernet MAC) and Layer-3 (IP) traffic
Y.1731 and 'TWAMP' support for in-service L-2 (Ethernet) and L-3 (IP) traffic Latency, Jitter and Packet-Loss performance monitoring & alarming
Unique MetroSAM (Service Assurance Module) hardware for wirespeed SLA measurement & verification
Zero Touch Provisioning for fully automated discovery, installation and testing
Support for Performance-Assured Ethernet (PAE) Services
Customer VLAN and Q-in-Q support for service differentiation
Traffic prioritisation & Rate Limiting, with Policing and Colour Marking
Link Loss Forwarding, L2CP tunnelling and Jumbo Frame Support (10kb)
Redundant Dual AC Failover PSU version available
Compact unit with robust metal housing and integral power supply
Auto-sensing power supply (100-250V AC or -48V DC versions), 12-24V DC on request
Designed and manufactured in the UK
FCM9005 Ethernet Demarcation Device Overview
The FCM9005 offers a sophisticated ethernet demarcation solution for Ethernet Service Providers, with flexible interface options. The 'MetroSAM' service assurance architecture allows wire speed measurement of the key parameters necessary to ensure compliance with customer Service Level Agreements. These measurements can also be performed in-service against programmable thresholds to prove that the service continues to operate effectively over the longer term. This proactive fault detection assists in the rapid isolation of potential service problems enabling Service Level Agreement (SLA) assurance whilst reducing operational costs (OPEX).
Zero Touch Provisioning
The FCM9005 supports Zero Touch Provisioning (ZTP), minimising both on-site installation time and the engineering skills required. This auto-provisioning process reduces on-site installation to a 'plug and play' exercise, simple enough for the end user to perform themselves, i.e. simply checking that the Ethernet LEDs indicate correct physical connectivity. The EDD auto-discovers its management connection, IP address and TFTP server, then downloads its individual service definition parameters and management system contact details. The EDD then performs a carrier specific series of SLA measurements to micro-second resolution and proves that all of the service parameters have been provisioned properly. Once the service has been fully proven, the EDD sends the SLA verification birth certificate to the NOC for inclusion into the Service Provider's provisioning documentation and then auto-provisions itself. Subsequent in-service SLA verification measurements then continue to check that service levels are being maintained and notify of any drop in performance below a set of programmable thresholds.
ITU-T Y.1564 & RFC-2544 Performance Testing & Benchmarking
The FCM9005 has a powerful ITU-T Y.1564 / RFC-2544 performance benchmark testing capability on-board, which can be scripted to match the specific installation procedures of individual Service Providers. Full CIR / CBS / EIR / EBS testing can be performed on multiple flows simultaneously, with micro-second resolution hardware time stamping, for either Layer-2 or Layer-3 traffic, enabling effective utilization for both pure Ethernet and IP-Routed network infrastructures. Should the EDD suffer a loss of power then a Dying Gasp 802.3ah message and Trap are sent to provide immediate notification of the reason for service loss. All of this functionality combined with the sophisticated in-service SLA performance monitoring and verification against programmable thresholds, dramatically impacts on the Total Cost of Ownership (TCO) of Ethernet Service Provision.
FCM9005 Power Configurations
The FCM9005 is available in a choice of power supplies:
100-250 VAC integrated PSU
Redundant fail over Dual AC integrated PSU
-48 VDC integrated PSU
12V-24V DC available on request
FCM9005 Rackmounting
The FCM9005 can easily be rack mounted in either a 1U two unit rack mount kit, a 6U eighteen unit rack mount kit. A 1U rack mount kit is also available for the Redundant Dual AC PSU version.
Please contact Metrodata for price and availability of SFP modules including standard 1310nm singlemode as well as long haul, 1550nm, bi-directional and CWDM.
The FCM9005 can be deployed wherever managed service demarcation is required at the customer site. The FCM9005 supports standards compliant OAM functions and wire speed loop-back with layer-2 and layer-3 address swapping, so that end-to-end service performance measurements can be initiated from within or across the core network. Utilising Zero Touch Provisioning (ZTP), the FCM9005 minimises both on-site installation time and the Engineering skills required making the whole process 'Plug & Play'. The FCM9005 provides number of physical connections are offered for both user and network ports including both copper and fibre (SFP) ports.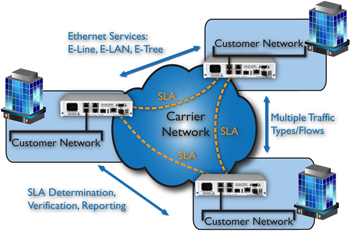 The FCM9005 can be used for service demarcation for a wide variety of Carrier Ethernet services, including E-Line, E-Tree and E-LAN. Multiple traffic types and flows can be supported, with VLANs configurable for service separation and prioritisation used to ensure that mixed traffic flows are handled appropriately. Support for multi-level tag processing also eases core network configuration issues. The sophisticated performance measurement functions offered by the MetroSAM service assurance management hardware means that full service level parameterisation can be performed on installation and Service Level Agreement verification and reporting offered to the customer.

The majority of Ethernet Service Providers today are in fact 'Aggregators', offering end-to-end connections supplied on a wholesale basis, potentially sourced from a number of different Infrastructure Carriers. Whilst those Carriers may offer discrete Service Level Agreements (SLAs) for their portions of the network, the Aggregator must assure their service from end-to-end, right into the customer premises. In these deployments the FCM9005 is flexible enough to offer true SLA network performance measurements which will include the entire multiple Carrier infrastructure, even if the third party service specifically filters out OAM packets.
The FCM9005 has sophisticated and flexible Layer 2 Control Protocol policy management supporting either the filtering or pass-through of a wide variety of packet types including vendor proprietary L2CP frames. The FCM9005 supports auto MDI/MDIX cross-over switching on the copper interfaces, auto-negotiation and the transmission of 10k byte Jumbo frames. To ensure quick fault detection, the FCM9005 supports Link Loss Forwarding, whereby a network fault can automatically force a link down on the user ports to indicate to the attached devices that there is a link problem.
| | |
| --- | --- |
| 10/100/1000BaseT | 4 |
| 100BaseFX/1000BaseX (SFP) | 1 |
VLAN Support
4096 VLANs
IEEE 802.1Q customer-tagged
Stacked VLANs (Q-in-Q service provider-tagged)
IEEE 802.1ad Provider Bridging (s-tag)
16 EVCs supported
Tag Management: 2-tag (push/pop) for c-tag & s-tag
Traffic Management & Service Classification
802.1p
"Inherited" DSCP QOS
Per flow policing and colour marking against:
Committed Information Rate (CIR)
Constant Bit Rate (CBS)
Excess Information Rate (EIR)
Excess Burst Size (EBS)
Ethernet OAM
IEEE 802.3ah Link OAM (EFM)
IEEE 802.1ag Connectivity Fault Management (CFM)
Service Level Agreement Measurement and Verification
Y1731
TWAMP in-service monitoring
Sophisticated SLA test generator
Analyser accurate to micro-second resolution
ITU-T Y.1564
RFC2544 commissioning testing
Port & service-level loop back with Layer-2 and Layer-3 address swapping
Link Loss Forwarding to signal network path failures
Fault & Performance Monitoring
Frame loss, delay & delay variation monitoring, via Y.1731 and TWAMP
Statistics gathered on a per-port & per-service basis
Support for MEF SOAM-FM and SOAM-PM MIB objects for to Performance Assured Ethernet
SFP DDM support for fibre optic monitoring including OTDR
Automated Configuration & Provisioning
Zero Touch Provisioning from centralized or remote infrastructure
Management connection and layer-3 discovery process
EDD downloads individually tailored service definitions
User defined test scripts control SLA verification
Birth certificate evidence sent to NOC automatically
Self-provisioning by EDD once tests complete
Automated configuration of in-service measurements against programmable thresholds
Local Management
Local craft port (9-way D) which can be disabled
Local LAN port (RJ45) using CLI, SNMP & Web GUI interfaces
Remote Management
Maintains in-band VLAN & MAC-based management tunnels
Telnet, SSH (v2), TACACS+, SNMP, Web Browser
System Administration
Configuration database backup & restore
System software upgrade via TFTP
Layer 2 Control Protocol policy management
Per-flow filtering or tunnelling of L2CP and other protocols, e.g. RSTP
Alarms & Resilience
SNMP Trap notification of EDD status including service availability, LAN disconnect warning & user-defined SLA thresholds exceeded
Dying Gasp OAM message and SNMP Trap in response to power loss
Regulatory & Standards Compliance
IEEE 802.1Q (VLAN)
802.1p (Priority, 4 queues)
802.3ah (EFM)
802.1ag (CFM)
ITU-T Y.1731
Safety EN60950
Safety EMC EN55032, EN55024
| | |
| --- | --- |
| Dimensions (w x d x h) | 202 x 132 x 44mm |
| Dimensions Redundant PSU (w x d x h) | 235 x 132 x 44mm |
| Operating temperature | 0 to +50°C |
| Storage temperature | -40 to +70°C |
| Humidity | Up to 95% non-condensing |
| Maximum power consumption | 1d0 Watts |
Order Code
Product
AC Mains
DC Power
FCM9005 *
80-70-944
80-71-944
FCM9005 Redundant PSU *
80-74-944
2 unit rack mount kit
80-05-256
80-05-256
1 unit rack mount kit
80-05-260
FCM9005 redundant PSU variants
18 unit rack mount kit
80-05-250
80-05-255
* No SFPs fitted
Product variants with 12V to 24V DC operation are also available on request.
If you require further information on the FCM9005 please contact our sales team with your requirements.
Commonly used SFP transceivers
Order Code
Description
10Gbps Multimode 550m 300nm
80-38-011
Multimode interface
fibre optic loss budget 5.1dB
10Gbps Singlemode 10km 1300nm
80-38-031
Singlemode interface
fibre optic loss budget 6.3dB
1Gbps Multimode 550m 850nm
80-31-011
Multimode interface
fibre optic loss budget 7.5dB
1Gbps Singlemode 10km 1300nm
80-31-031
Singlemode interface
fibre optic loss budget 12dB
1Gbps Singlemode 80km 1550nm
80-31-042
Singlemode interface
fibre optic loss budget 24dB
100Mbps Multimode 2km 1300nm
80-30-021
Multimode interface
fibre optic loss budget 12dB
100Mbps Singlemode 10km 1300nm
80-30-031
Singlemode interface
fibre optic loss budget 17dB
Need to add more SFP's to your quote?
To see more of Metrodata's SFP offering of Fibre Transceivers, click here.
Many other transceivers are available on request including long haul, 1550nm, CWDM, DWDM and bi-directional.
Whilst the MetroCONNECT product range uses industry standard user exchangeable SFP and SFP+ transceivers, it is recommended that these are purchased from Metrodata to guarantee their specification and compatibility with each other.
If you require another transceiver please contact our sales team with your requirements.
Related Products
MetroCONNECT Managed Carrier Ethernet Service Demarcation
MetroCONNECT Ethernet Service Delivery Products - Chassis System