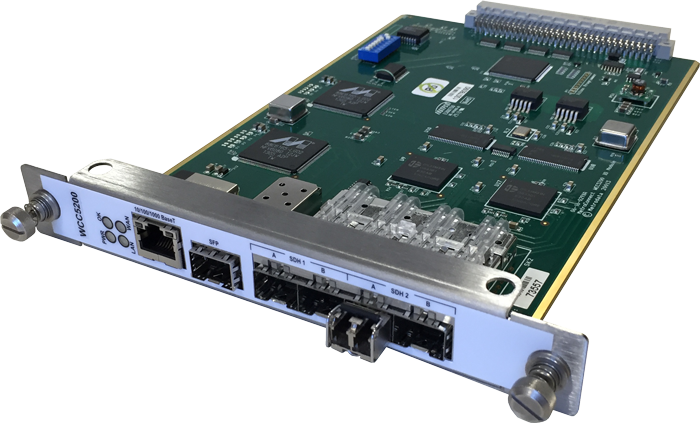 Ethernet over Dual STM-1 LAN Extension Module
The Metrodata WCC5200 provides a high performance Ethernet over Dual STM-1 LAN extension function for the MC12000 chassis.
Gigabit Ethernet over/Fibre over STM-1 Services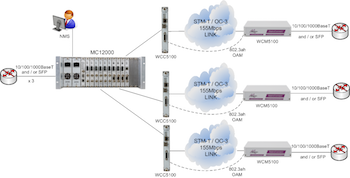 10/100/1000BaseT Copper Port
SFP socket supporting:
Optional:

Fibre over Dual STM-1
Copper over Dual STM-1
Fibre and Copper Dual over STM-1

Resilience via 1 + 1 support on each STM-1 port
GFP/VCAT/LCAS EoSDH encapsulation over VC4
Aggregation supported
Link Loss Forwarding
Jumbo Frame Support (10K)
IEEE 802.3ah OAM Support
IEEE 802.1q VLAN support (pass-through and tag switching)
IEEE 802.1p priority queuing (4 queues)
RSTP support
TACACS+ for secure authentication
"Hot Swap" IO Module
Store and Forward Media Conversion
Interoperates with WCM5100 customer site unit
The WCC5200 is a single slot I/O module for use in the fully managed MetroCONNECT MC12000 system and is fully "Hot Swap" compliant to ease maintenance and the provisioning of new services. The WCC5200 can be used for Ethernet Service Provision, offering LAN extension over up to two SDH STM-1. services.
The WCC5200 has dual STM-1 WAN ports, each of which has two SFP ports and so 1+1 resilience
can be used if required. Each WAN port may be configured to use either VC4 tributaries.
The WCC5200 can operate in aggregation mode, where the LAN frames are switched according to the MAC
destination address for up to 2 remote destinations, or alternatively VLAN or S-VLAN tag switching can be used. The WCC5200 supports single tag push/pop functions.
The WCC5200 offers a fixed copper 10/100/1000BaseT LAN interface, offering auto-negotiation and auto MDI/MDIX cross-over switching. A second SFP-based LAN interface is provided, which supported standard SFP modules offering 1000Base-X, 100BaseFX and 10/100/1000BaseT. This port auto-senses the SFP type inserted, and configures for 1000Base-X or 100BaseFX operation.
Link Loss Forwarding can be supported, whereby faults on both of the uplink ports will automatically force a link down on the user ports to indicate to the attached devices that there is a link problem. The transmission.
of Jumbo frames of up to 10K bytes is supported, with large internal packet buffering used to smooth out bursty traffic without packet loss.
Remote management can be performed using Ethernet OAM, SNMP or Telnet, in conjunction with the Management Module of the MC12000 system.
The WCC5200 supports VLAN in two ways. In normal mode, VLAN tagged frames are passed unmodified; however when VLAN support is enabled, the WCC5200 supports VLAN tag-based switching whereby access may be controlled using VLAN IDs.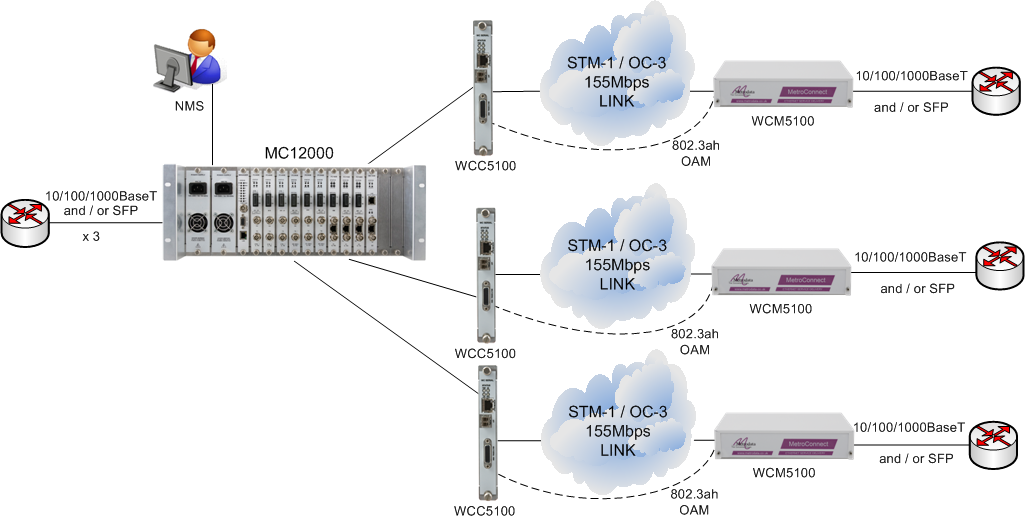 This application shows how WCC5200 modules within a MC12000 chassis can be used to perform an Ethernet over STM-1 LAN Extension function. Electrical connection into the core network potentially improves port density and therefore utilisation levels, but fibre connectivity is also available. The WCM5100 is a standalone version of the WCC5200 module offering Ethernet service demarcation at the customer site.
DUAL WAN Port Specs

Port
SDH STM-1
Interface
Dual SFP fibre connectors with dual LC connectors
Framing
STM-1
Line Coding
NRZ
Bit Rate
155.52Mbps +/- 15 ppm
Resilience
1 + 1
Encapsulation
GFP with VCAT / LCAS using VC4 EoSDH
1000Base-X Fibre Interface

Port
IEEE802.3z 1000BaseX
Interface
Dual LC connectors
SFP 1000Base SX

Wavelength
850nm multimode
TX Power
-9.5 to -3dBm
Max Rx input power
0dBm
Rx sensitivity
-17 to 0dBm
Optical loss budget
7.5dB (550m)
SFP 1000Base LX

Wavelength
1300nm singlemode
TX Power
-9.5 to -3dBm
Max Rx input power
-3dBm
Rx sensitivity
-19 to -3dBm
Optical loss budget
9.5dB (10km)
10/100/1000BaseT Electrical Interface

Port
10/100/1000BaseT with auto-negotiation
Interface
RJ45 (Auto Crossover MDI/MDIX)
Operating modes
Auto Negotiate, 10M, 100M, 1000M, Full Duplex, Half Duplex
LEDs
Link Activity, Speed
MTU
1522/2048 bytes
Compliance & Approvals

Safety
EN60950, IEC-60825-1 (Class 1 Laser Eye Safety)
EMC
EMC EN55032
Environment

Temperature
0 - 50 deg C
Humidity
0 - 95% RH, non condensing
Pressure
86 - 100 KPa
Storage Temp
-40 to 100 deg C
| | |
| --- | --- |
| Product | Order Code |
| WCC5200 | 80-16-2547 |
Commonly used SFP transceivers
Order Code
Description
10Gbps Multimode 550m 300nm
80-38-011
Multimode interface
fibre optic loss budget 5.1dB
10Gbps Singlemode 10km 1300nm
80-38-031
Singlemode interface
fibre optic loss budget 6.3dB
1Gbps Multimode 550m 850nm
80-31-011
Multimode interface
fibre optic loss budget 7.5dB
1Gbps Singlemode 10km 1300nm
80-31-031
Singlemode interface
fibre optic loss budget 12dB
1Gbps Singlemode 80km 1550nm
80-31-042
Singlemode interface
fibre optic loss budget 24dB
100Mbps Multimode 2km 1300nm
80-30-021
Multimode interface
fibre optic loss budget 12dB
100Mbps Singlemode 10km 1300nm
80-30-031
Singlemode interface
fibre optic loss budget 17dB
Need to add more SFP's to your quote?
To see more of Metrodata's SFP offering of Fibre Transceivers, click here.
Many other transceivers are available on request including long haul, 1550nm, CWDM, DWDM and bi-directional.
Whilst the MetroCONNECT product range uses industry standard user exchangeable SFP and SFP+ transceivers, it is recommended that these are purchased from Metrodata to guarantee their specification and compatibility with each other.
If you require another transceiver please contact our sales team with your requirements.
Related Products
MetroCONNECT Ethernet Service Delivery Products - Chassis System
MetroCONNECT Ethernet Service Delivery Products - Standalone Units
MetroCONNECT Managed Carrier Ethernet Service Demarcation