Gigabit Ethernet Converter over up to 8x E1 or T1 services
The WCM1800 Ethernet Converter provides Ethernet extension & Carrier Ethernet Service delivery, offering end to end management using 802.3ah OAM, and customer site LAN extension from twisted pair 10/100/1000BaseT and 100Base/1000Base-X fibre over multiple E1 or T1 leased line services.
Gigabit Ethernet Converter over multiple E1/T1 circuits

Ethernet Converter of 10Mb/100Mb/Gigabit Ethernet over up to 8x Clear Channel or Fractional E1 or T1 services
Use either for individual Point-to-Point links, offering seamless Ethernet bandwidth over up to 8 'bonded' WAN circuits between two locations, or as a small Central Site Aggregator, serving combinations of single and/or bonded E1 or T1 links to between one and four separate locations
Four RJ45 plus single SFP flexible media port, offering local Switched Ethernet connections up to 1Gbps
Mini Jumbo Frame Support (up to 2048bytes)
Fully manageable via Serial Terminal (user-friendly context-sensitive menu system), Telnet/SSH, SNMP and Web Browser
TACACS+ for secure authentication
802.3ah Carrier Ethernet OAM protocol support, for Connectivity Management
Integrated 'Bit Error Rate Testing' (BERT) for WAN link verification and troubleshooting
802.1q VLAN support with prioritisation based on 802.1p and/or DSCP markers
Bandwidth control per Ethernet Port and Priority queue (also for Broadcast traffic), enabling differentiated traffic QoS
Flexible Ethernet encapsulation schemes, including support for GFP standard for inter-operability
Link Loss Forwarding
RSTP support
LED status indicators
Alarm Extension Relay
Robust metal casing, made in the UK to high quality standards
Integral auto-sensing power supply (100-250V AC or -48V DC versions)
12V & 24V DC PSU variants also available on request
Easy to install & maintain
1-port E1/T1, 4-port bonded E1/T1,8-port bonded E1/T1 and 16-port bonded E1/T1 versions also available
BNC Version also available
The WCM1800 is a member of the MetroCONNECT family, offering Managed LAN extension over either Clear-Channel or Fractional E1 or T1 Wide Area Networks.The WCM1800 supports four locally switched RJ45 LAN interfaces, three of which are for 10/100Mbps connections and the fourth supporting 1Gbps.A further LAN interface is provided via an SFP port, offering the flexibility of a wide variety of fibre interface options. Over-sized Ethernet frames are supported.
Ethernet VLANs are supported, either by pass-through of existing Tags or by the Push and Pop of Tags on ingress and egress at Ethernet ports. Pre-embedded prioritisation schemes can be honoured, or alternatively prioritisation can be over-written under Management control. Bandwidth limitation per port and per prioritisation can be implemented, providing a mechanism for differentiated QoS for different services. Management is offered via each of Serial Terminal connection,Telnet, SNMP or Web Browser application. Management security is offered via SSH andTACACS+ authentication. Support is also offered for 'Carrier Ethernet' Link OAM Management (IEEE 802.3ah), enabling status information to be shared with connected equipment if required.
In line with all other members of the MetroCONNECT Ethernet Service Delivery family,theWCM1800 supports Metrodata's 'zero-touch' installation process, eliminating the need for skilled resources for remote-site installations.
The WCM1800 supports integrated 'Bit Error Rate Testing' (BERT), an invaluable aid during both installation and subsequent troubleshooting. This facility enables integrity testing of the WAN link, prior to application of Ethernet traffic, eliminating doubt as to the location of connectivity problems.
Ethernet traffic is encapsulated by the WCM1800, for transmission over an E1 or T1 link, using a number of optional schema including support for the ITU-T G.8040 standard 'Generic Framing Procedure' (GFP).The product can be used for Point- to-Point links, using two WCM1800 products joined via multiply 'bonded' terrestrial or wireless (e.g. microwave) WAN services, to provide seamless Ethernet bandwidth of up to ~16Mbps between two locations.Alternatively, the product can be used in conjunction with other members of the MetroCONNECT product family, including the WCM1100,WCM1400, WCM1820 and MC12000 Ethernet Service Delivery Chassis.As a small 'Central Site' aggregator, the WCM1800 may serve combinations of single and/or bonded WAN links to between one and four separate locations.
The WCM1800 is available in a choice of 100-250 VAC or -48 VDC integrated power supplies.
The WCM1800 can easily be rack mounted.
The WCM1800 is part of a wide range of LAN Extender products from Metrodata.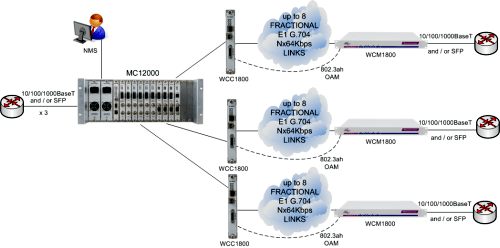 This application shows an MC12000 MetroCONNECT chassis with WCC1800 modules, supporting multiple WCM1800 Ethernet Converters over up to 8 Fractional E1 or T1 LAN Extender Demarcation Devices. The MetroCONNECT and WCM1800 together offer LAN Extension and Ethernet demarcation, with remote management via 802.3ah OAM. Various service delivery options are available including fibre, copper, and fibre plus copper over up to 8 Fractional E1 or T1 circuits. Comprehensive remote network management access is available via the MetroCONNECT including end to end remote management using 802.3ah OAM. 10M, 100M and Gigabit Ethernet applications can all be supported, as can Mini Jumbo frames.
This application shows an WCM1800 unit being used as the Ethernet Extender demarcation device to deliver a Carrier Ethernet service from an MPLS core network. A wide choice of Ethernet connectivity is available for the user via the 10/100/1000baseT and SFP fibre ports. OAM support means that the WCM1800 can be remotely managed by the central network management system using standards based OAM packets. GFP is supported allowing single ended use with aggregation platforms in the core network.
This application shows how a pair of WCM1800 units can be used to offer Ethernet service demarcation and LAN Extender functionality either over up to 8 Fractional E1/T1 circuits.
WAN Port Specs

Port
8-port Fractional E1/T1 conforming to G.703
Interface (RJ45)
E1: RJ45 (120 ohm) T1: RJ45 (100 ohm)
Interface (BNC)
E1: dual BNC (75 ohm)
Framing
E1: G.704 (with or without CRC4) or unframed
T1: ESF
Line Coding
E1: HDB3 T1: B8ZS
Bit Rate
E1: 2.048Mbps +/- 50 ppm
T1: 1.544Mbps +/- 50ppm
1000Base-X Fibre Interface

Port
IEEE802.3z 1000BaseX
Interface
Dual LC connectors
SFP 1000Base SX

Wavelength
850nm multimode
TX Power
-9.5 to -3dBm
Max Rx input power
0dBm
Rx sensitivity
-17 to 0dBm
Optical loss budget
7.5dB (550m)
SFP 1000Base LX

Wavelength
1300nm singlemode
TX Power
-9.5 to -3dBm
Max Rx input power
-3dBm
Rx sensitivity
-19 to -3dBm
Optical loss budget
9.5dB (10km)
10/100/1000BaseT Electrical Interface

Port
4x 10/100/1000BaseT with auto-negotiation and Jumbo frame support
Interface
RJ45 (Auto Crossover MDI/MDIX)
Operating mode
Auto Negotiate, 10M, 100M, 1000M, Full Duplex, Half Duplex
LEDs
Link, Activity, Speed
Compliance & Approvals

Safety
EN60950
IEC60825-1 Class 1 Laser Eye Safety
EMC
EMC EN55032
Environment

Temperature
0 - 50 deg C
Humidity
0 - 95% RH, non condensing
Storage Temp
-40 to 100 deg C
Pressure
86 - 106 kPa
Power Supply Options

-48 VDC
-36 to -72V DC, 125 - 65 mA
AC Mains
100 - 250V AC, 50 - 60Hz, 60 - 25mA
Power Consumption
6 watts approx when operating
Packaging

Type
1U 19 inch rack mount
Dimensions
435 x 213 x 43 mm (W x D x H)
Order Code
Product
AC Mains
DC Power
WCM1800 (RJ45)
80-70-8542
80-71-8542
WCM1800 (BNC)
80-70-8572
80-71-8572
Product variants with 12V to 24V DC operation are also available on request.
If you require further information please contact our sales team with your requirements.
Commonly used SFP transceivers
Order Code
Description
10Gbps Multimode 550m 300nm
80-38-011
Multimode interface
fibre optic loss budget 5.1dB
10Gbps Singlemode 10km 1300nm
80-38-031
Singlemode interface
fibre optic loss budget 6.3dB
1Gbps Multimode 550m 850nm
80-31-011
Multimode interface
fibre optic loss budget 7.5dB
1Gbps Singlemode 10km 1300nm
80-31-031
Singlemode interface
fibre optic loss budget 12dB
1Gbps Singlemode 80km 1550nm
80-31-042
Singlemode interface
fibre optic loss budget 24dB
100Mbps Multimode 2km 1300nm
80-30-021
Multimode interface
fibre optic loss budget 12dB
100Mbps Singlemode 10km 1300nm
80-30-031
Singlemode interface
fibre optic loss budget 17dB
Many other transceivers are available on request including long haul, 1550nm, CWDM, DWDM and bi-directional.
Whilst the MetroCONNECT product range uses industry standard user exchangeable SFP and SFP+ transceivers, it is recommended that these are purchased from Metrodata to guarantee their specification and compatibility with each other.
If you require another transceiver please contact our sales team with your requirements.
Related Products
MetroCONNECT Ethernet Service Delivery Products - Chassis System
MetroCONNECT Ethernet Service Delivery Products - Standalone Units